By: Carolina Malis
We hear about the benefits of Vitamin C since we're little, not only in our diets and as a fundamental nutrient but also in order to keep a healthy complexion, but why is this vitamin considered to be one of the holy grails of skincare? Well, the answer is simple: it truly works. No matter if you're dealing with fine lines, post-inflammatory hyperpigmentation, dark spots, scars, uneven texture, dehydration, or a dull complexion, this powerful ingredient can be the superhero your skin has been waiting for.
Fun fact? Such is its popularity that Vitamin C has been crowned the number 1 most googled skincare ingredient, with a whopping 1.2 million searches in 2020 (just to compare, retinol is second on the list with 900,000 searches), and the number keeps on growing. But what is it exactly and how does it help your skin?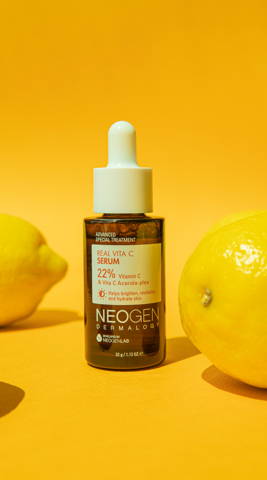 First things first: What is Vitamin C?
Vitamin C (sometimes also known as Ascorbic Acid) is an essential nutrient our body needs to regenerate and repair tissues all over our bodies, but there's a sad truth to it: we cannot produce it on our own. This dynamic antioxidant has the power to neutralize free radicals and boosts our natural regeneration process, which helps our bodies regenerate damaged skin cells. Antioxidants are necessary for our skin to help prevent and/or reduce damage to our cells by keeping free-radicals production levels at bay, as these unstable molecules are capable of harming healthy cells in our body.
How does it benefit your skin?

Antioxidant powers aside, Vitamin C carries a plethora of benefits: its highly acidic levels help trigger a self-healing process in our skin, which accelerates and stimulates the production of collagen and elastin, two naturally occurring protein fibers in our skin that help keep it plump and firm. So, in helping to promote collagen production, topical vitamin C can help prevent premature aging of the skin.
Vitamin C can also hold back our skin's melanin production, a.k.a the pigment responsible for causing skin discoloration like dark spots and hyperpigmentation.
Technically yes, but those with sensitive skin may experience inflammation, redness, or even some tingling from using it. The key is to start slow; test out formulas with lower percentages of Vitamin C, do patch tests, and grow from there"
How to add it to your routine
There are many forms of Vitamin C, all with different formulations, percentages, ingredient pairings, and even textures, the important thing is to remember this is a powerful ingredient, so start easy and slow (4% or 5% concentrations are ideal to get started) and then work your way up as your skin grows more accustomed to the ingredient.
Real Vita C Serum 22%
Enriched with 22% of sodium ascorbyl phosphate and niacinamide, this potent serum removes blemishes, brightens dull skin tone, and nourishes tired skin to reveal a healthy-looking complexion. The formula also features collagen and hyaluronic acid, as well as citrus fruit extracts to revitalize and moisturize your skin. 
Lemon Bright PHA Gauze Peeling Pads
Formulated with AHA, BHA, and LHA in addition to the existing PHA ingredient for more thorough exfoliation, plus hyaluronic acid, ceramide, and glutathione to nourish the skin. Use the gauze side to exfoliate the skin, and then the quilted side to gently pat in the essence.
Real Vita C Powder Lemon
This fine Vitamin C Powder is enriched with 17% Ascorbic Acid, which helps brighten, protect, and improve the skin tone and texture. It contains Allantoin, Trehalose, and Lemon extract, hydrating and revitalizing tired and dull skin for more radiant and healthier-looking skin. Infused with Ascorbic Acid for skin tone and skin elasticity improvement, Panthenol for boosting moisture level, Hydrolyzed Collagen for skin hydrating.
Double Vita Drop In Serum
This vitamin serum is infused with double vitamin C, reduces freckles on the face, and provides a bright complexion. It contains Citrus Junos Fruit Extract, Poncirus Trifoliata Fruit Extract to brighten up skin tone for a vital radiant, plus it deeply hydrates the skin with 8 types of hyaluronic acid.