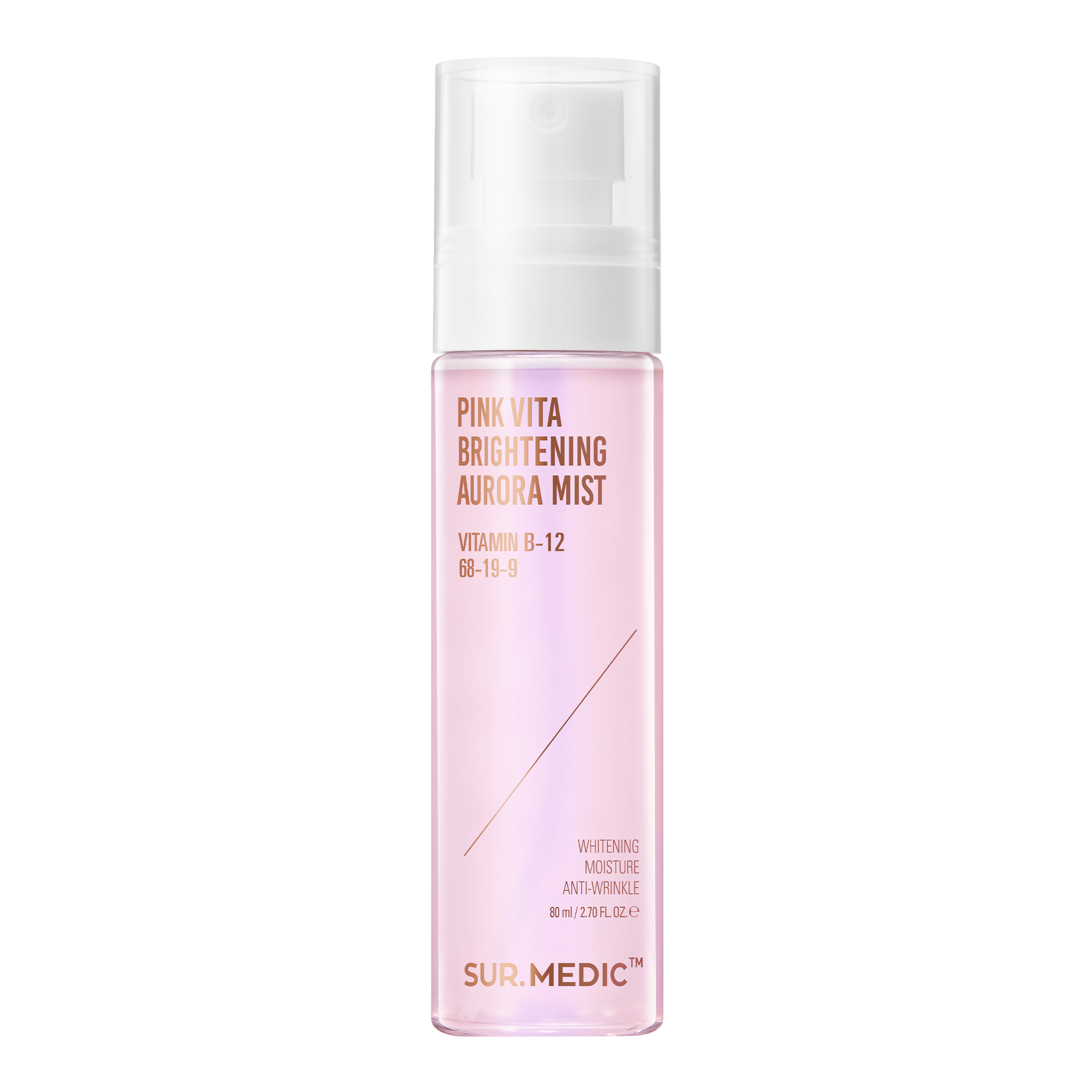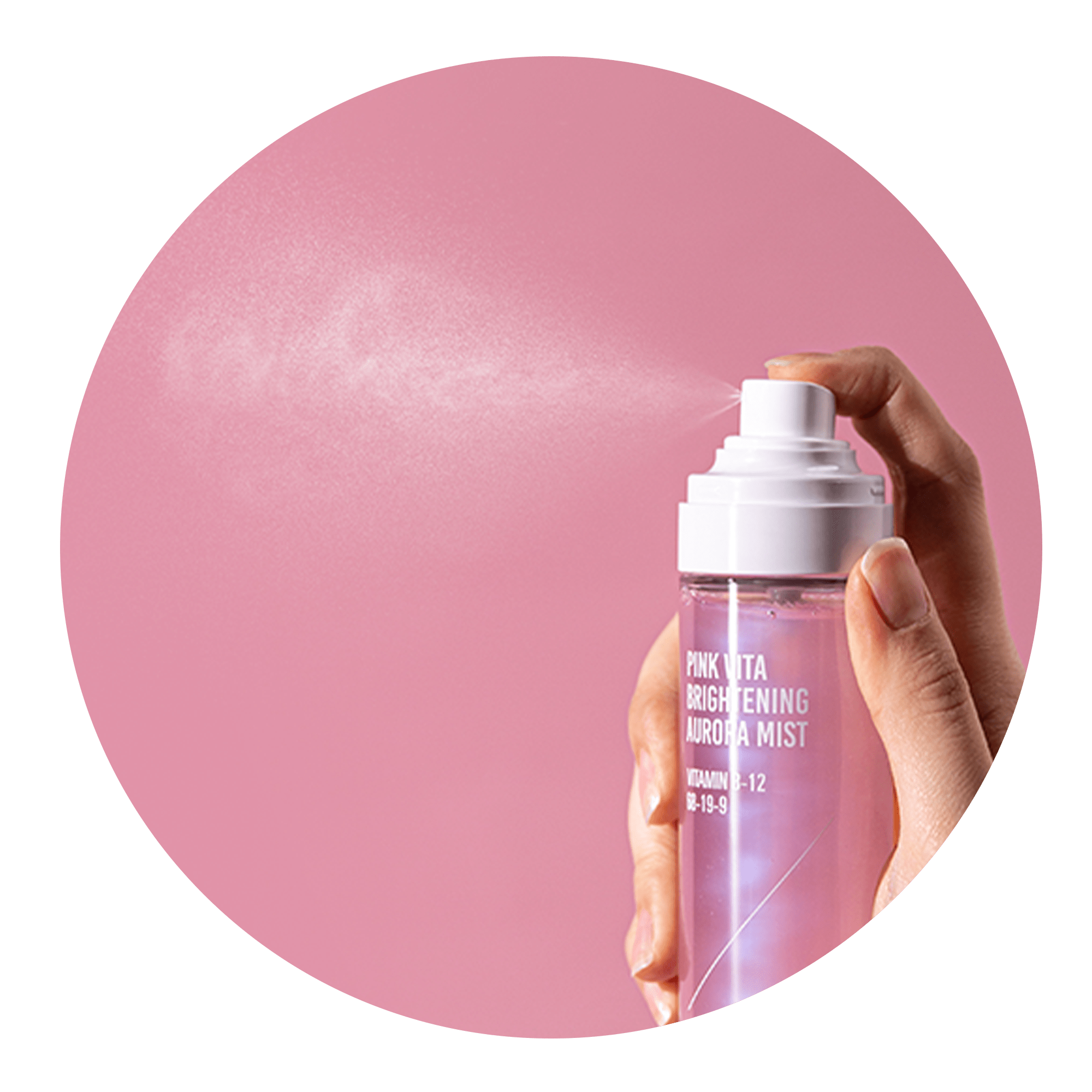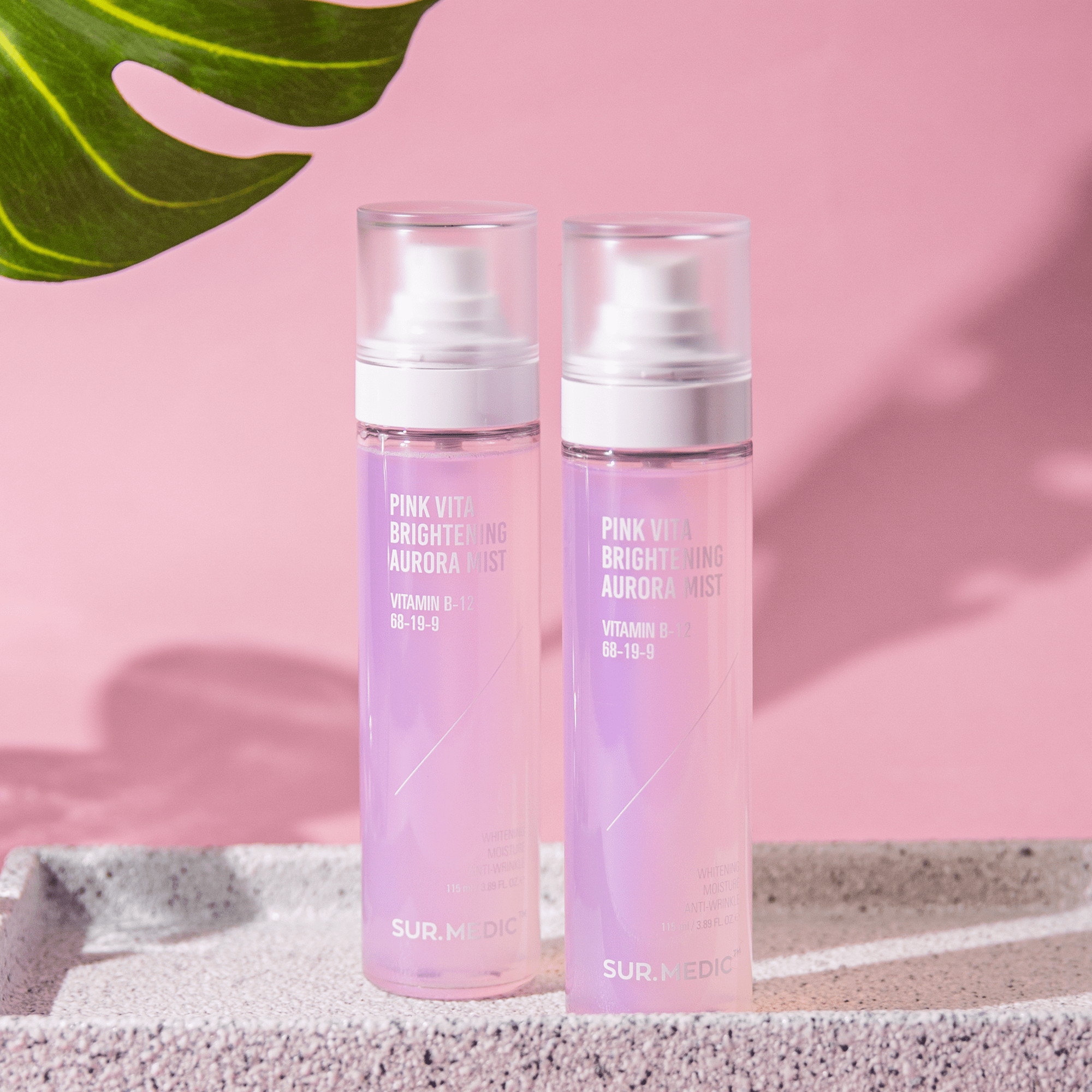 SUR.MEDIC Pink Vita Brightening Aurora Mist 115ml
SUR.MEDIC Pink Vita Brightening Aurora Mist 115ml
Brightening + Reducing Fine Lines and Wrinkles 
Moisturizing and illuminating pink aurora!
The most gentle mist for an everyday use, formulated with ceramides and vitamin B12, will not only make up for the lack of moisture throughout the day, but also provide additional protection and also help refresh the skin tone. The smoky texture and pearly shade of the mist are due to the ceramide-infused solution. Ceramides help strengthen the skin barrier, prevent the rapid evaporation of moisture, and enhance the skin's own protective functions.
An ingredient that rejuvenates the look of dull skin!
#1 Vitamin B12
The only vitamin that contains essential mineral ingredients
Vitamin B12 (Cobalamin), also known as the "pink vitamin", is the only vitamin known to contain essential mineral ingredients that help brighten the skin complexion and energize the skin. In addition, it is an active ingredient that deeply moisturizes the skin and helps with various skin concerns caused by dryness.
A LED-like therapy for clear and glowing skin!
#2 Glutathione (Vitamin G)
aka "The king of vitamins", a truly powerful antioxidant 
This ingredient has proven clinical results for brightening functions. Glutathione suppresses and prevents the production of melanin-forming enzymes. It also helps clear and brighten the skin for a more even skin tone. This is the key ingredient of famous Korean skin care clinics' skin whitening injections, such as the Beyoncé, or Cinderella injection.
10 types of Vitamins to reenergize dull, tired skin
*Vitamin C, Vitamin B1, Vitamin B2, Vitamin B3, Vitamin B5, Vitamin B6, Vitamin B7, Vitamin B9, Vitamin 12, Vitamin E*
Recommended to the following people: 
✔ Those who want to provide daily hydration and nutrition to their dry skin
✔ Those who don't like to apply several products after washing their face and want a simple one-step skincare 
✔ Those who want a glowy and lasting makeup 
✔ Those who have dull skin
Key Ingredients
Vitamin B12
Brighten the skin complexion 
Energize the skin
Deeply moisturizes the skin 
Glutathione (Vitamin G)
Suppresses and prevents the production of melanin-forming enzymes
Helps clear and brighten the skin
Ceramide NP
Helps create a strong skin barrier 

Retains and lock in moisture to protect the skin
Damask Rose Flower Extract
Gives the skin a healthy and radiant complexion 

Provides deep moisture and calms sensitive skin

Hyaluronic Acid
Provides instant moisture and hydration
Helps the skin retain moisture 
Collagen
Helps improve the skin's elasticity
Firms and lifts the skin
Bifida Ferment Lysate
Strengthens the skin's barrier

Increase skin's elasticity 

Benefits
How to use
1. Shake the mist (so that the product inside becomes homogeneous).
2. Spray it at a distance of 10-20cm from the skin. It can be used after washing, after applying complete skincare, as well as during the day to replenish moisture levels and nourish the skin.
*TIP: If you want to add an extra glow to your makeup, spray the mist on your face before applying foundation and then again after completing your makeup.*
What's unique?

A pro-ceramide,

hydrated, and illuminating

pink aurora look

A ceramide-infused water mist with pink aurora and no pearls. Packed with ceramide for intense moisture, this mist helps improve the skin's barrier support. Apply any time of the day, before and/or after makeup to energize and nourish your skin.

Infused with

"Pink Vitamin"

for an energized, illuminated look!

Infused with "Pink Vitamin" (Vitamin B12) and "Glutathione" (Vitamin G), Aurora Mist helps even out the skin tone and deliver nourishment for a hydrated and healthy look. Infused with 10 types of vitamins and soothing ingredients that strengthens the skin against environmental stressors, this mist transform you skin into a plumper-looking, healthier skin!
SUR.MEDIC Pink Vita Brightening Aurora Mist 115ml