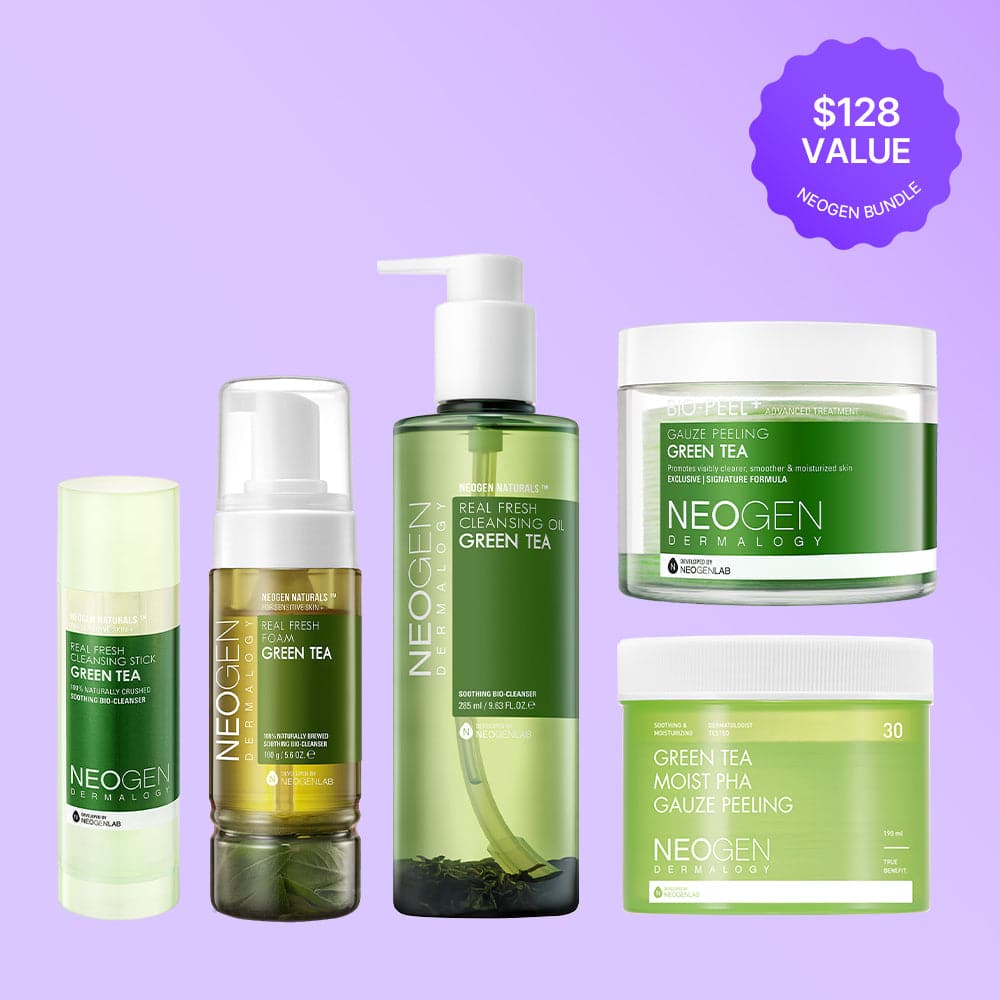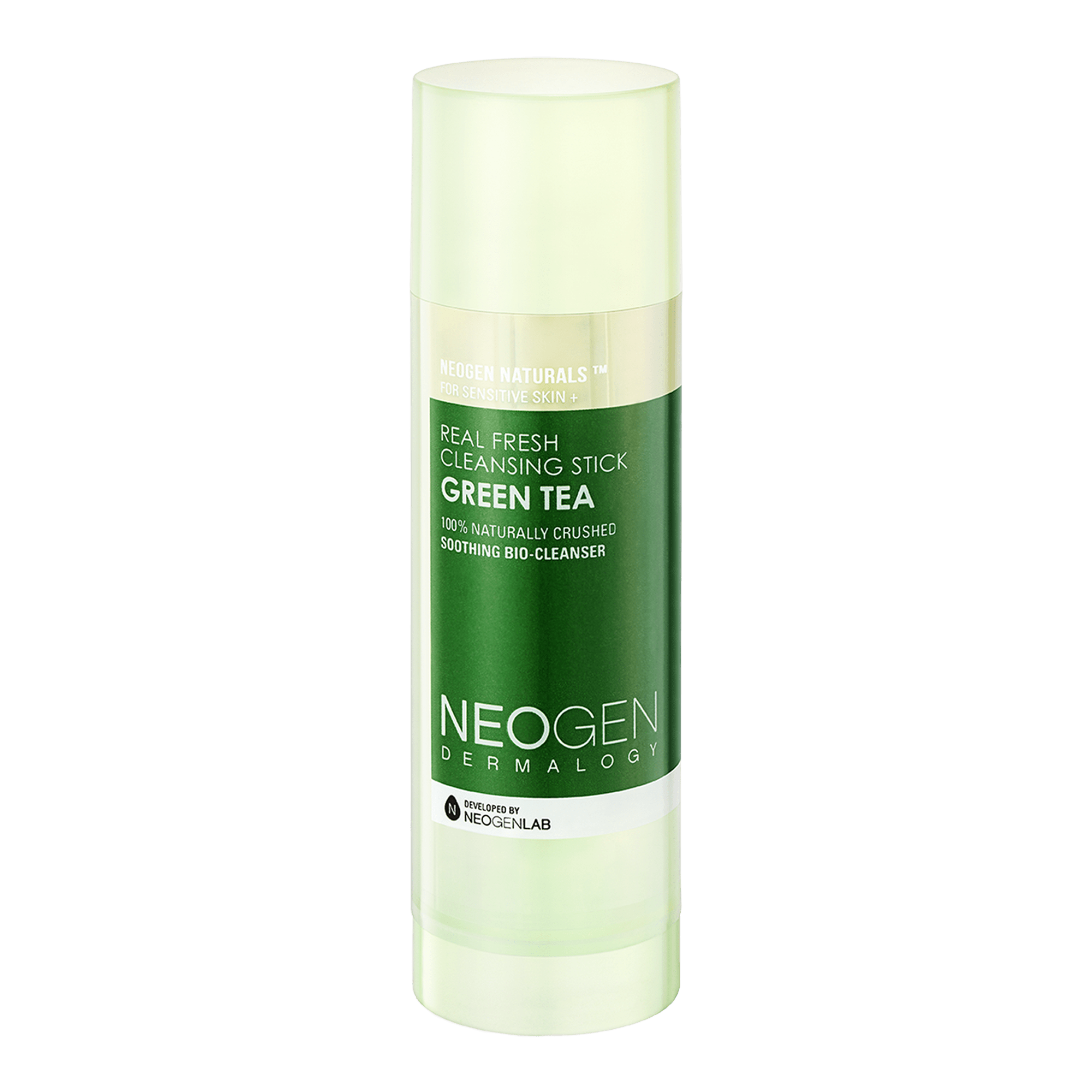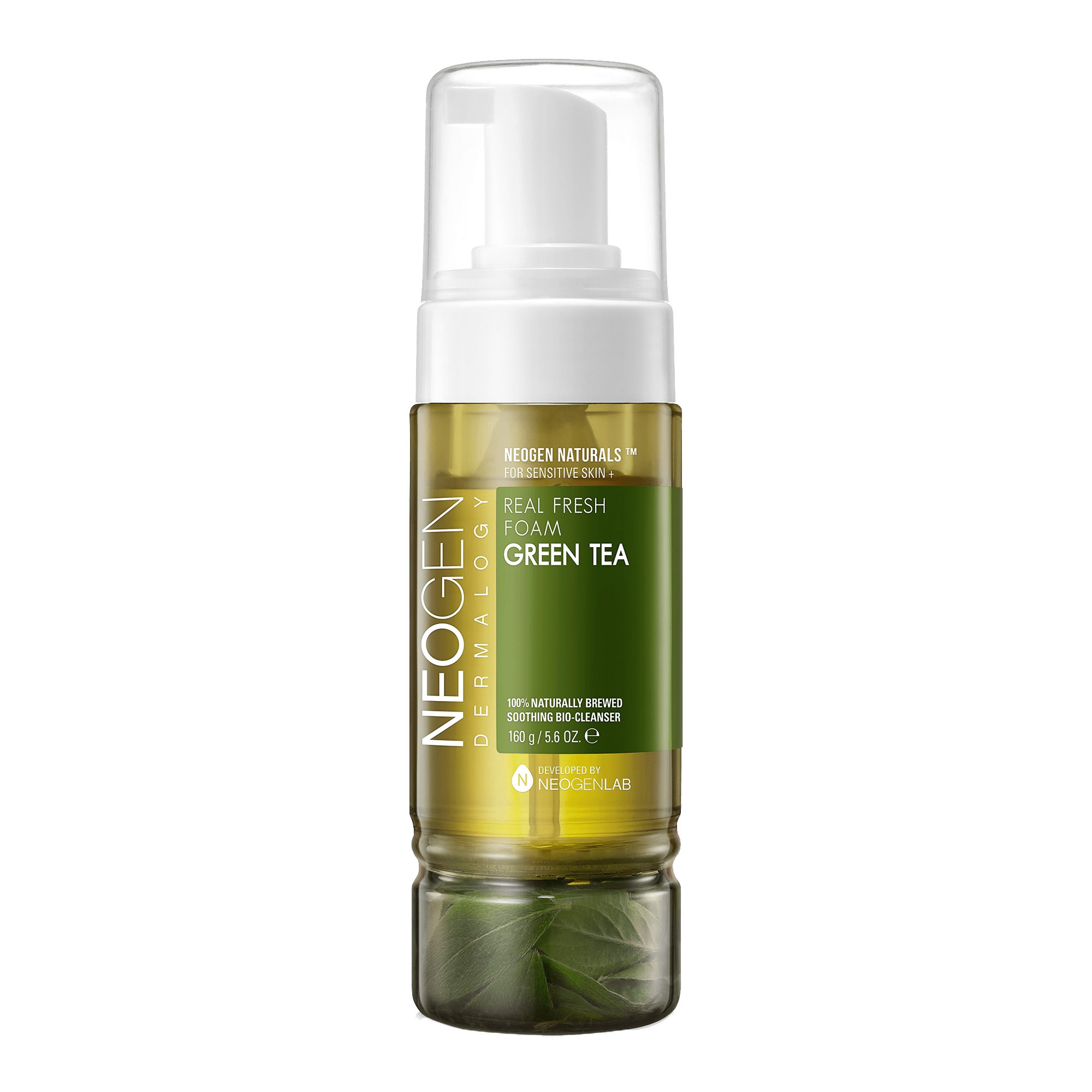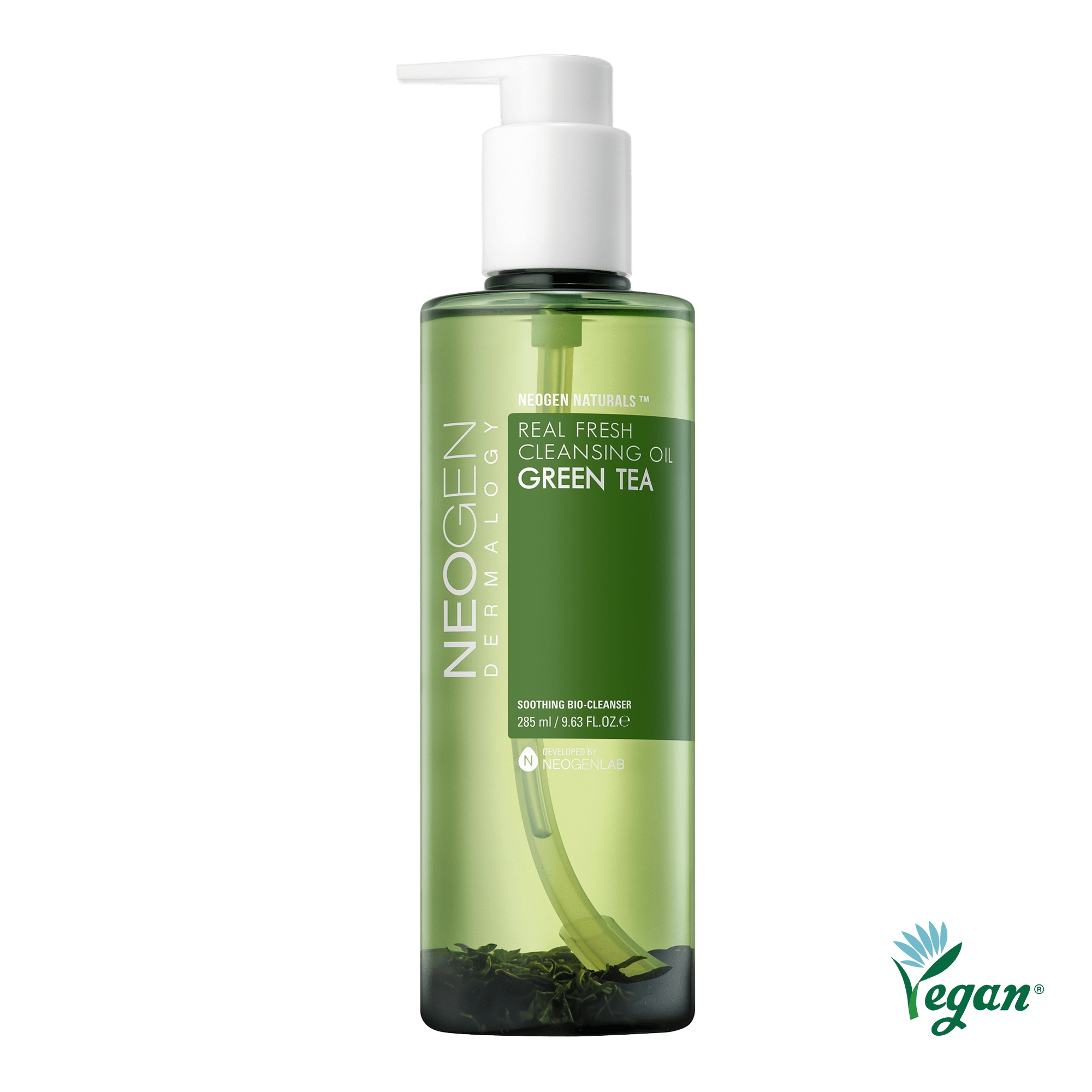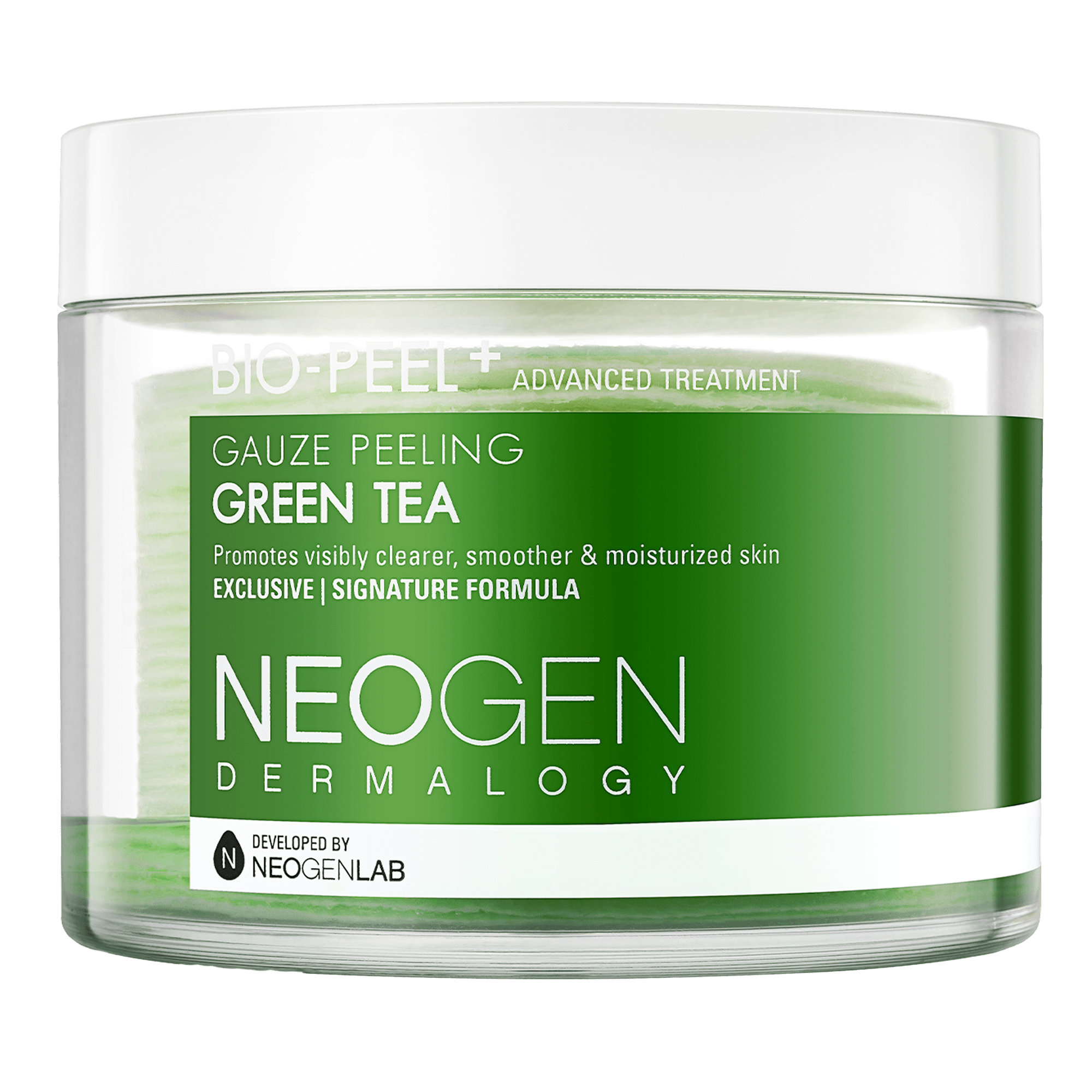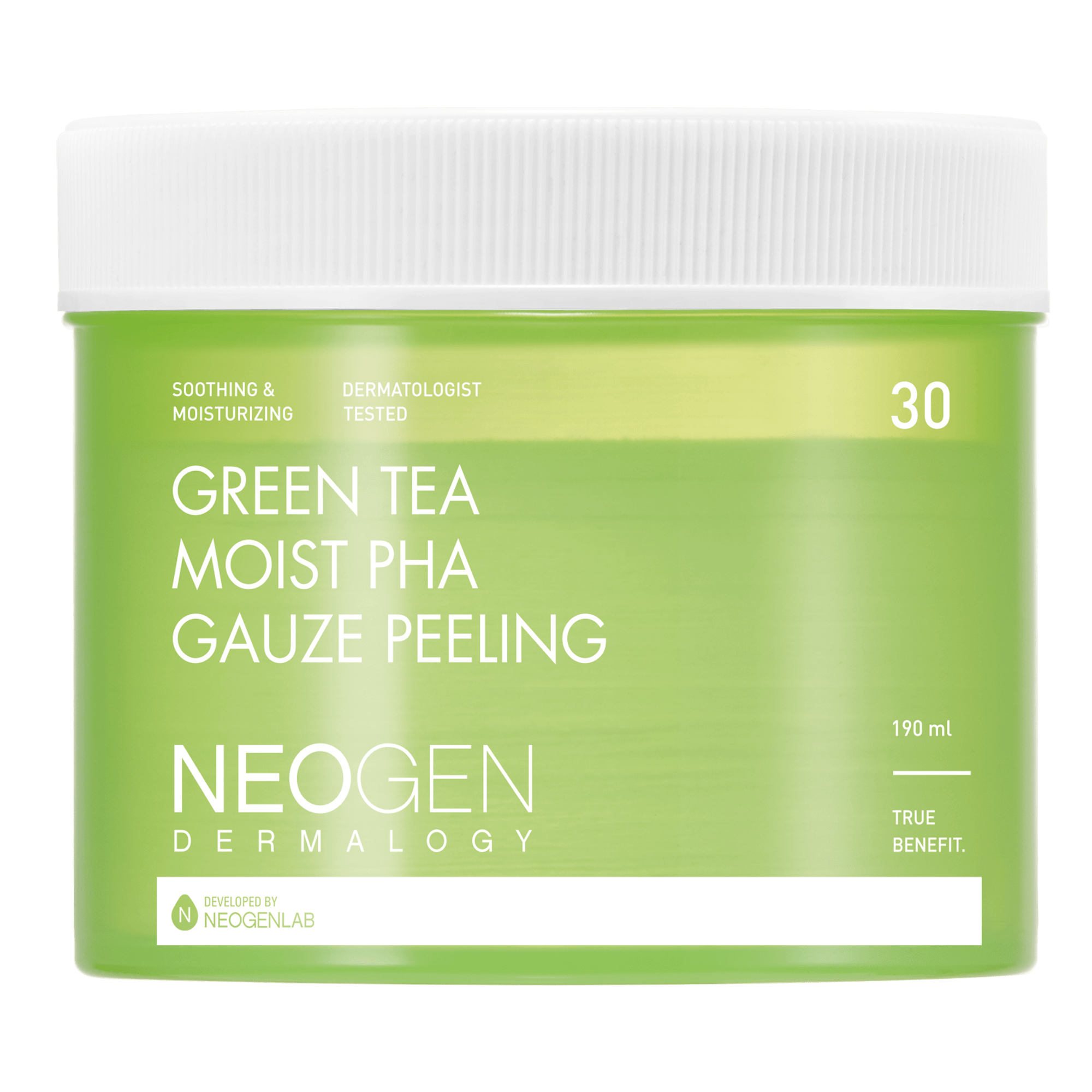 Green Tea Effect Set (Real Fresh Cleansing Stick, Real Fresh Foam Cleanser, Real Fresh Cleansing Oil, Bio-Peel Gauze Peeling, Moist Pha Gauze Peeling)
$76.80
Regular price
$128.00
Subscription • Save
<Green Tea Effect Set>
- NEOGEN DERMALOGY Real Fresh Cleansing Stick Green Tea 2.82 oz / 80g
- NEOGEN DERMALOGY Real Fresh Foam Cleanser Green Tea 5.6 oz / 160g
- NEOGEN DERMALOGY Real Fresh Cleansing Oil Green Tea 285ml
- NEOGEN DERMALOGY Bio-Peel Gauze Peeling Green Tea 6.76 oz / 200ml (30 Pads)
- NEOGEN DERMALOGY Green Tea Moist Pha Gauze Peeling 190ml (30 Pads)
REAL FRESH CLEANSING STICK GREEN TEA


99% nature derived ingredient provides no stimulation! Easy daily cleansing with fresh green tea leaves. Moisturizing finish with Green Tea Seed Oil after cleansing! Real Green Tea leaf softly applies to the skin and removes dead skin cells without harsh stimulation. Experience the real fresh and natural ingredients such as Green Tea leaves contained in this stick, which leaves the skin clean and clear! 
 REAL FRESH FOAM CLEANSER GREEN TEA


Gentle and Hydrating foam cleanser formulated from natural ingredients and real green tea leaves.  It decreases the amount of sebum, while increasing the moisture in the skin by controlling the skin's oil-moisture balance to prevent oily skin and maintain clean, pure, and balanced skin.

REAL FRESH CLEANSING OIL GREEN TEA


Real Green Tea and cleansing oil meet to make the skin feel refreshed and calm, while perfectly erasing makeup! This non-stripping formula helps maintain skin's natural acidity and it's free from chemical surfactants – which is the main cause of dryness. It helps keep your skin healthy without leaving skin tight or dry!

BIO-PEEL GAUZE PEELING GREEN TEA


Soaked in Green Tea formula serum that also contains other various ingredients like Centella Asiatica extract; these convenient cotton gauze peeling pads will not only leave your skin smoother but also refreshed, refined, and revitalized. Enjoy the benefits of Green Tea!

 GREEN TEA MOIST PHA GAUZE PEELING 


Green Tea, Tea Tree, Mate leaf, and Rooibos leaf  soothe the skin from heat, irritation, and sebum in many ways and create an environment for the skin to rest comfortably. Helps lower the skin's temperature with moisturizing green tea and soothes irritated skin from environmental aggressors to restore the skin into a calm skin texture.

Green Tea Effect Set (Real Fresh Cleansing Stick, Real Fresh Foam Cleanser, Real Fresh Cleansing Oil, Bio-Peel Gauze Peeling, Moist Pha Gauze Peeling)
$76.80
Regular price
$128.00