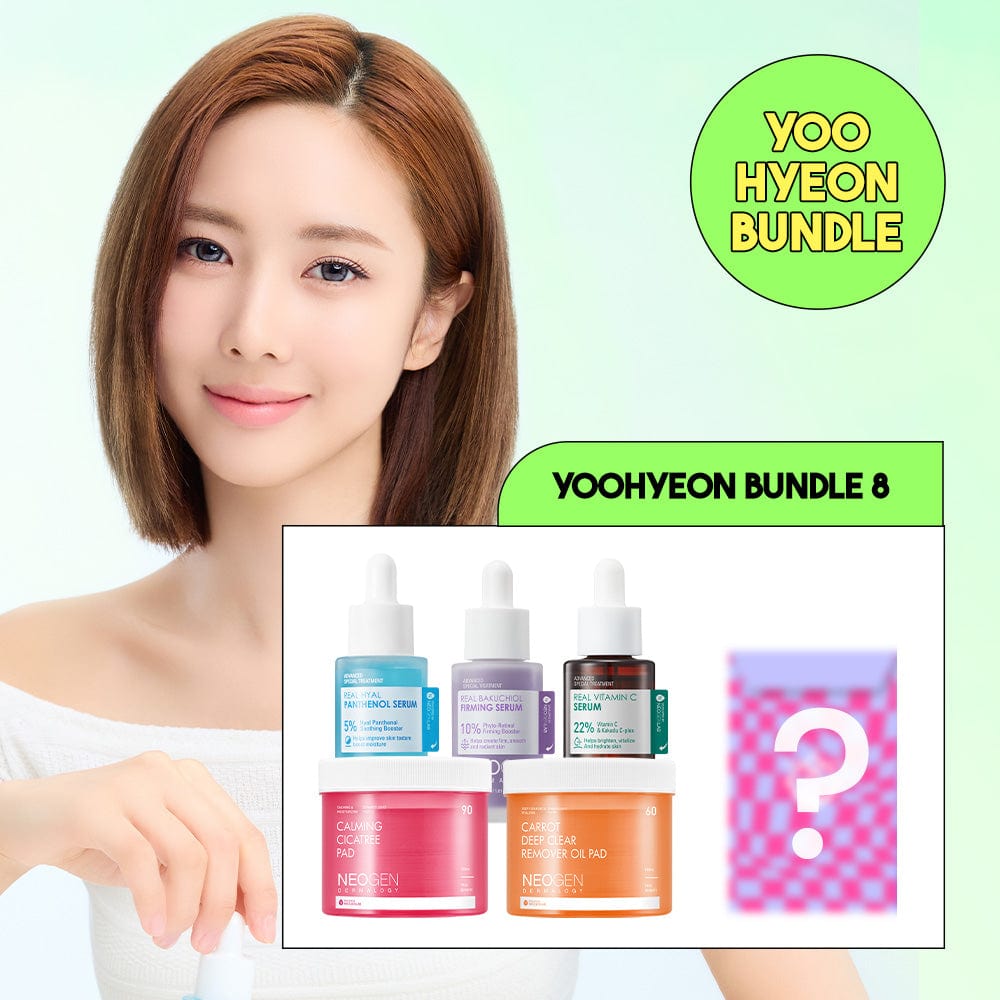 YOOHYEON BUNDLE - YOOHYEON SET 8
Welcoming Neogen's new muse - Jiyoo & Yoohyeon from Dreamcatcher~! We are entering a new voyage this 2023 - introducing you Yoohyeon's bestfriend set 8. This set consist of Calming Cica Tree Pad, Carrot Deep Clear Remover Oil Pad, Real Bakuchiol Firming Serum, Real Vitamin C Serum, Real Hyal Panthenol Serum. Keep on reading to learn more. 💜
Calming Cica Tree Pad (150ml)
A fine microfiber pad that contains abundant highly enriching essence containing Cica Complex and Tea Tree Leaf extract that calms irritated skin resulting from the external environment. It also provides gentle exfoliation while soothing the sensitive skin, leaving skin moist and smooth.
Carrot Deep Clear Remover Oil Pad 
NEOGEN DERMALOGY Carrot Deep Clear Remover Oil Pad is a new type of oil pad infused with cleansing oil - Carrot Seed oil and other exfoliating ingredients that are rich in Beta-Carotene included in the formulation to help your skin become more vibrant.
It's OK even when you're not at the sink, it won't drip and create a mess!
One pad can thoroughly remove base makeup and point makeup (eye, lip & cheek makeup), helping achieve a clearer skin complexion.
Real Hyal Panthenol Serum (30ml)
Neogen Dermalogy Real Hyal Panthenol Serum is a powerhouse of hydration, designed to deeply nourish the skin with D-Panthenol, 10 types of Vitamins and 8 types of Hyaluronic Acid. Ideal for sensitive skin and perfect for anyone who is looking to boost their skin's moisture levels. 
What is D-Panthenol?
It is a chemical substance that is a combination of water-soluble Vitamin B5 and Hyaluronic Acid. These ingredients are known to penetrate deep into the epidermis moisturizing not only the skin barrier but the layers within.  
Real Bakuchiol Firming Serum (30ml)
This serum is formulated with Bakuchiol, a natural anti-aging ingredient that is an alternative to retinol. This ingredient is plant-based and very gentle to the skin. Great for people who are sensitive. 
It is also very refreshing and hydrating upon application. The lightweight texture allows quick absorption into the skin while delivering the much needed moisture without leaving your skin tacky!  
Witness this collagen boosting serum revive your skin's elasticity. 
Real Vitamin C Serum 30ml
The new Real Vitamin C Serum features 10% stabilized Vitamin C derivatives and 12% Kakadu C-plex (a highly antioxidant concentrate made of Kakadu Plum and vitamin C & E rich plant extracts) on top of Ferulic acid.
⁠This lightweight, non-sticky, vegan-friendly serum helps improve skin tone and texture while revitalizing your skin and bringing back elasticity for a radiant complexion.⁠ 
YOOHYEON BUNDLE - YOOHYEON SET 8