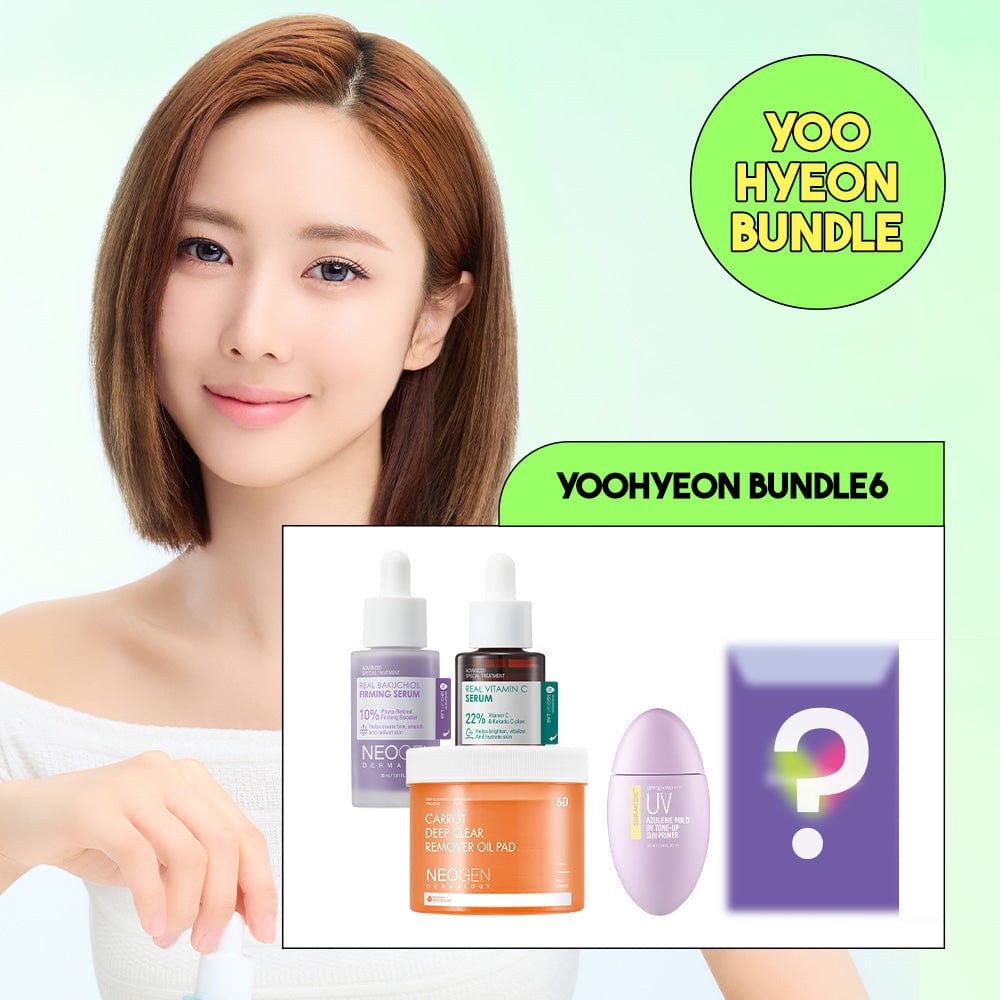 YOOHYEON BUNDLE - YOOHYEON SET 6
Welcoming Neogen's new muse - Jiyoo & Yoohyeon from Dreamcatcher~! We are entering a new voyage this 2023 - introducing you Yoohyeon's bestfriend set 6. This set consist of Carrot Deep Clear Remover Oil Pad, Real Bakuchiol Firming Serum, Real Vitamin C Serum, Sur Medic Azulene Mild UV Tone Up Sun Primer. Keep on reading to learn more. 💜
Carrot Deep Clear Remover Oil Pad 
NEOGEN DERMALOGY Carrot Deep Clear Remover Oil Pad is a new type of oil pad infused with cleansing oil - Carrot Seed oil and other exfoliating ingredients that are rich in Beta-Carotene included in the formulation to help your skin become more vibrant.
It's OK even when you're not at the sink, it won't drip and create a mess!
One pad can thoroughly remove base makeup and point makeup (eye, lip & cheek makeup), helping achieve a clearer skin complexion.
Real Bakuchiol Firming Serum (30ml)
This serum is formulated with Bakuchiol, a natural anti-aging ingredient that is an alternative to retinol. This ingredient is plant-based and very gentle to the skin. Great for people who are sensitive. 
It is also very refreshing and hydrating upon application. The lightweight texture allows quick absorption into the skin while delivering the much needed moisture without leaving your skin tacky!  
Witness this collagen boosting serum revive your skin's elasticity. 
Real Vitamin C Serum 30ml
The new Real Vitamin C Serum features 10% stabilized Vitamin C derivatives and 12% Kakadu C-plex (a highly antioxidant concentrate made of Kakadu Plum and vitamin C & E rich plant extracts) on top of Ferulic acid.
⁠This lightweight, non-sticky, vegan-friendly serum helps improve skin tone and texture while revitalizing your skin and bringing back elasticity for a radiant complexion.⁠ 
SUR.MEDIC+ Mild UV Tone-up Sun Primer 50ml
All in one Tone-up + Primer + UV Protect
Tone-up and Prime Sunscreen 
A hydrating sun primer with lightweight, non-sticky texture that sits on your skin smoothening the look of pores and skin texture, boosting the longevitiy of your makeup.
All-day grip!
A sheer, lightweight, hydrating texture that helps seal makeup without making it chalky. 
Azulene Sunscreen with Soothing and Hydrating Formula 
Formulated with azulene oil from chamomile that soothes and calms sensitive skin. 
Sun Primer that hydrates and protects the skin from UV rays. 
Brighten and improve dullness with purple tone primer 
It uses a non-chalky, purple tone primer to immediately brighten up dull skin and correct skin tone to it's most natural state. 
YOOHYEON BUNDLE - YOOHYEON SET 6