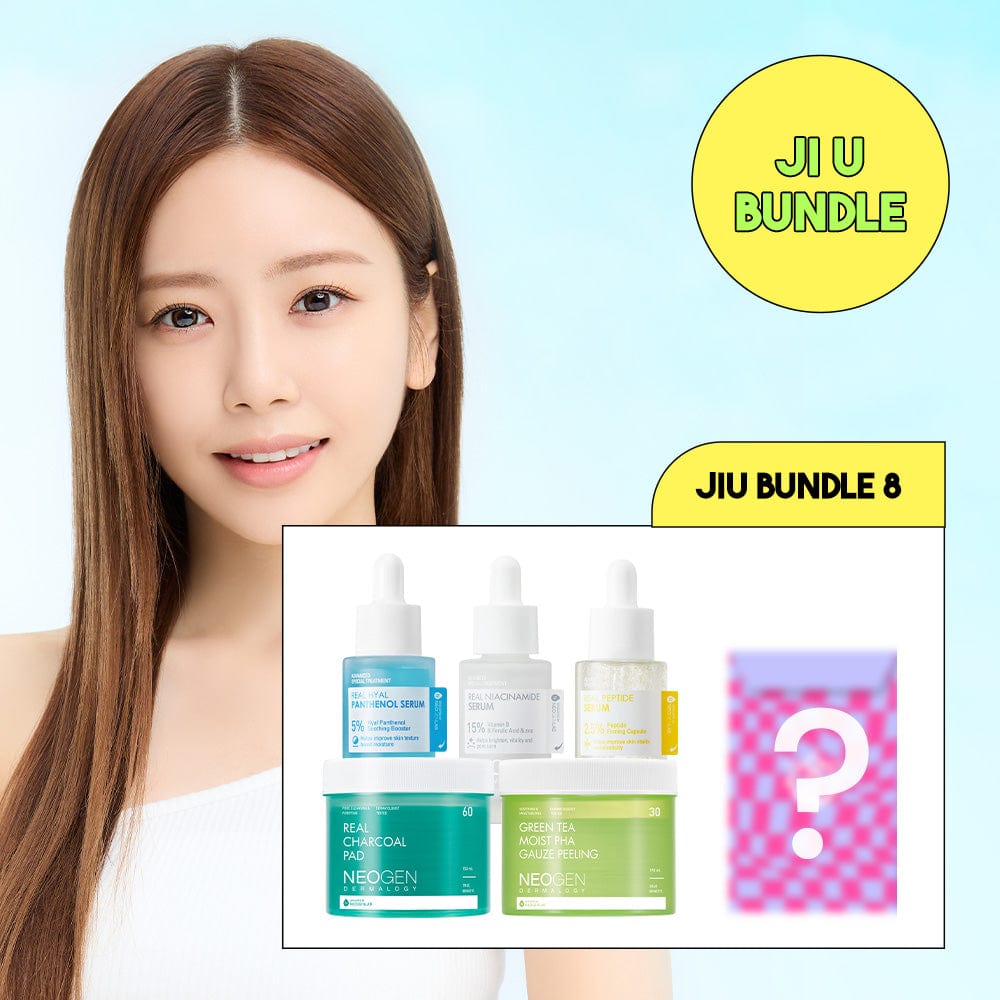 Welcoming Neogen's new muse - Jiyoo & Yoohyeon from Dreamcatcher~! We are entering a new voyage this 2023 - introducing you Jiyoo's boyfriend set 8. This set consist of The Real Charcoal Pad, The Real Hyal Panthenol Serum, The Real Nicacinamide Serum, The Real Peptide Serum and, Green Tea Moist PHA Gauze Peeling Pad. Keep on reading to learn more. 💜
Real Charcoal Pad 150ml (60 pads) 
Double the exfoliating effect with

 
Bamboo Charcoal Pad + Peeling Essence 
NEOGEN DERMALOGY Real Black Charcoal Pads is a pad that specializes in pore care, as it balances the oil and water levels of the skin while purifying the pores thanks to clean ingredients such as Bamboo Charcoal, Canadian Glacial Soil clay, Hungarian Moor Mud and Peat Water.
100% environmentally friendly Cellulose material.
Helps balance the skin from harmful environments by emitting irons.
Reduces stress and calms the skin, helping blood circulation and radiating far-infrared radiation.
Real Hyal Panthenol Serum (30ml)
Neogen Dermalogy Real Hyal Panthenol Serum is a powerhouse of hydration, designed to deeply nourish the skin with D-Panthenol, 10 types of Vitamins and 8 types of Hyaluronic Acid. Ideal for sensitive skin and perfect for anyone who is looking to boost their skin's moisture levels. 
What is D-Panthenol?
It is a chemical substance that is a combination of water-soluble Vitamin B5 and Hyaluronic Acid. These ingredients are known to penetrate deep into the epidermis moisturizing not only the skin barrier but the layers within.  
Real Niacinamide Serum (30ml) 

The synergy effect of 15% of niacinamide, arbutin, ferulic acid, and vitamin B improves not only external blemishes but also deeper layers of the skin. This smoothens out the mottled skin and fills the dull skin with vitality !

Niacinamide and zinc ingredients are used to control excessive sebum production and improve uneven skin by reducing dull and stretched pores, blackheads and white heads.  
Approved by the Korea Vegan Certification Standards and Skin Irritation Tests, this clean beauty product is suitable for individuals with sensitive skin. The hypoallergenic formula is used to calm troubled skin effectively.
Key Ingredients
Niacinamide
Helps prevent blemishes and freckles from appearing on the surface of the skin by blocking the transfer of melanin from the pigment-forming melanocytes!
Arbutin 
Prevents the production of pigments by inhibiting the expression of tyrosinase - a precursor of melanin pigment!
Ferulic Acid
Protects the skin from active oxygen that stimulates melanocytes while suppressing the production of melanin pigments!
Real Peptide Serum (30ml)
 
Neogen Dermalogy Real Peptide Serum delivers a powerful fusion of 13 peptides, niacinamide and adenosine - a perfect combination to improve skin elasticity, moisturize and diminish pore size. 
Discover improved skin tone, texture and vibrancy in your complexion, and the confidence that comes with it! 
Key Ingredients 
13 Type Peptide - Wrinkle care 

Niacinamide - Skin hydration and Pore care  

Adenosine - Wrinkle care 
Usage Tip

Tip 1. Ampoule + Sheet mask 
Moisturize and hydrate your skin with the Real Peptide Serum before putting on sheet mask. The serum will help deliver the active ingredients seamlessly into the deeper layers of your skin. 
After applying evenly over your face, reapply on sensitive or dry areas that require extra attention to further boost the effectiveness.  
Tip 3. Hydrated smooth base 
Want a more moisturized and high coverage base? Drop 2-3 drops of this serum and mix them together before use. 
Green Tea Moist PHA Gauze Peeling (30 pads)
The new and upgraded version of Peeling Pads. What is a gauze peeling pad you might ask? It bascially does the job to exfoliate and clean out impurities while nourishing the skin. The peeling line contains 3 seperate pads (Green tea, Lemon and Wine) providing targeted treatment to different skin concerns.
This patented 3 layer pure cotton gauze peeling pad effectively rolls away dead skin cells and delivers customized benefits to treat and repair the skin. 
Clean, No animal testing, Non-toxic ingredients, Free of synthetic fragrance, Free of artificial dyes, Alcohol-free.